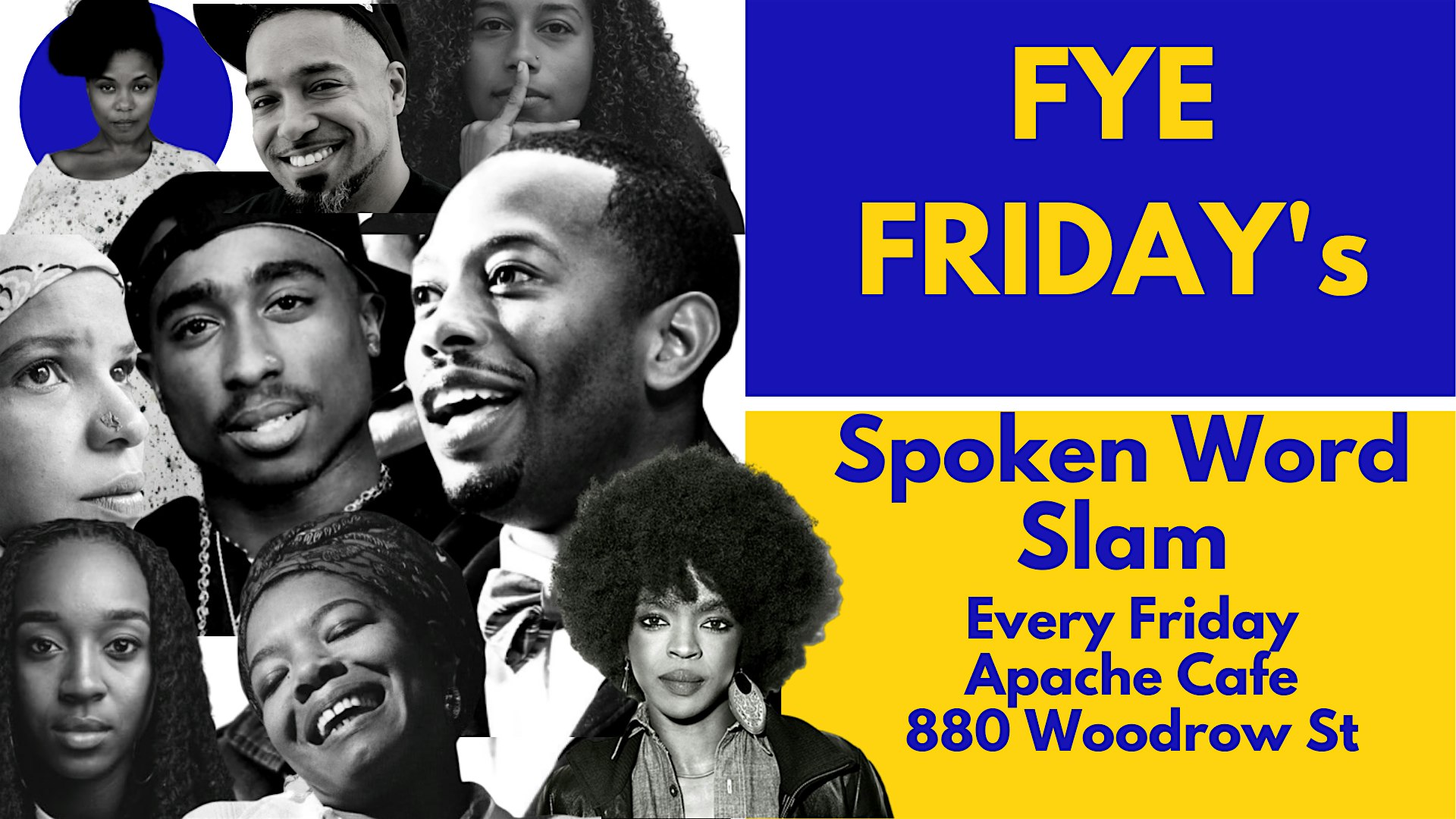 8:00pm
$10 GENERAL ADMISSION (21+), $10 Poet Open Mic Registration & Admission, $15 TABLE RESEVATION FOR 2-DOES NOT INCLUDE ADMISSION TICKET!, $15 TABLE RESEVATION FOR 3-DOES NOT INCLUDE ADMISSION TICKET!
Word Is Born: Weekly Spoken Word Poetry Open Mic @ApacheCafe
Join us Friday for FYE Fridays (Word is Born) Spoken Word/Poetry Open Mic.   Apache Cafe continues the rich tradition of creation, invention, discovery, and revelation in this open forum for spoken word, poetry, musical artists and for anyone who cares to turn up! The list is made available at 8pm at the door when the doors open. There is no advance registration. There is no extra fee to sign up on the list, just the price of admission. Different space with great sound, concessions with food and beverages available for purchase.  This is Apache 2.0....raw warehouse creative arts space - unique, authentic, and good times.   ADMISSION & TIMES: Doors @ 8pm  /  Show @ 9pm $10 At the Door - General Admission $7 Advanced - Genral Admission No dress code, but casual dress is suggested. *we currently use food trucks and food vendors.  you may bring in your own food if you want.  Picnic baskets, to-go food , or similar are allowed.  We don't provide napkins, utensils so bring your own and please clean up after yourself. Event admission, the day of, at the door, is CASH or credit card.  The cafe/concessions accepts Visa, MC, American Express, & Discover.  There is an ATM on site for your convenience. PARKING: Parking:  Park in the lot.  It's free.  Park in the big lot.   TABLE RESERVATION TICKETS & INFO: (1) Table reservations are generally held until one (1) hour after doors open but make sure to refer to the event's specific ticket rules on Eventbrite; if you have not redeemed your table reservation by the specified time, you will lose your reservation and your table will be made available to others without refund. (2) Table tickets are not required to attend, but they are a good idea if you must have guaranteed table seating. Otherwise, try arriving early to be seated at an open free table. (3) All reserved and walk-up tables have a $5 minimum per person. (4) A table ticket entitles you to the entire table with the described number of chairs. Do not purchase a table ticket for each person sitting with you at this table. (5) General admission ticket is required per person to enter venue. Purchasing a table reservation does not include the price of admission. Admission may be purchased by selecting General Admission tickets or at the venue upon arrival. (6) Table reservation fees do not go towards food or beverage, admission or gratuity. (7) There are no refunds on table reservations (except event cancellations) additionally, seating/table arrangements or changes to them are non negotiable and provide no cause for refund. (8) When you enter the venue, please look for your table which should be held by name, and kindly be prepared to show your reservation purchase credit card and picture ID for validation.